The average advertised UK salary sat at £37,697 in August 2023, falling slightly (-0.14%) from £37,750 in July
Here are some of the other highlights from the latest UK Job Market Report from Adzuna.
Job Vacancies
August saw 1,039,198 UK advertised vacancies, down -0.8% from 1,047,366 in July, as the summer slowdown continues. However, notably during the same time period last year, vacancies fell -4.2% between July and August, as continued competition for jobs and a tight labour market in 2023 has reduced the effects of seasonality this year.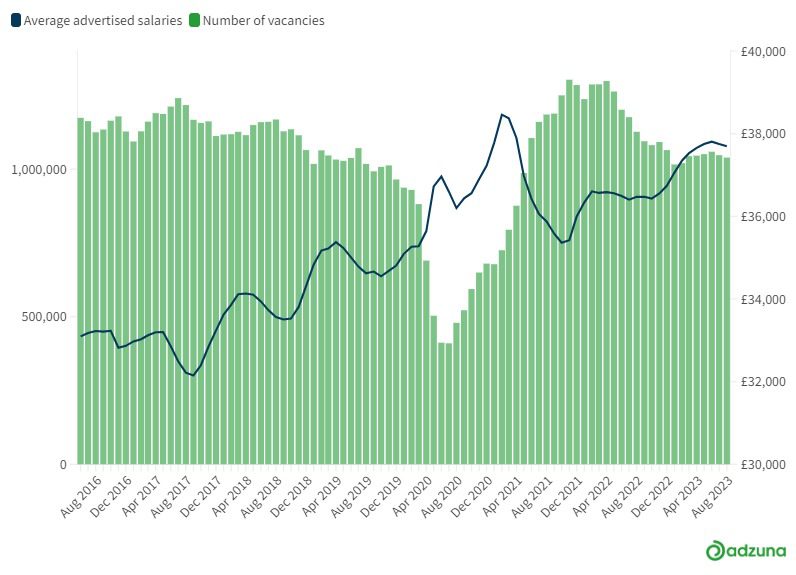 Salaries
The average advertised UK salary sat at £37,697 in August 2023, falling slightly (-0.14%) from £37,750 in July. Year-on-year, advertised salaries remain +3.4% higher than £36,474 in August 2022.
The trend for employers to post jobs without advertised salaries continues as employers try to keep pay rates for new joiners confidential. In August, 50.1% of job ads featured advertised salaries compared to 49.9% without.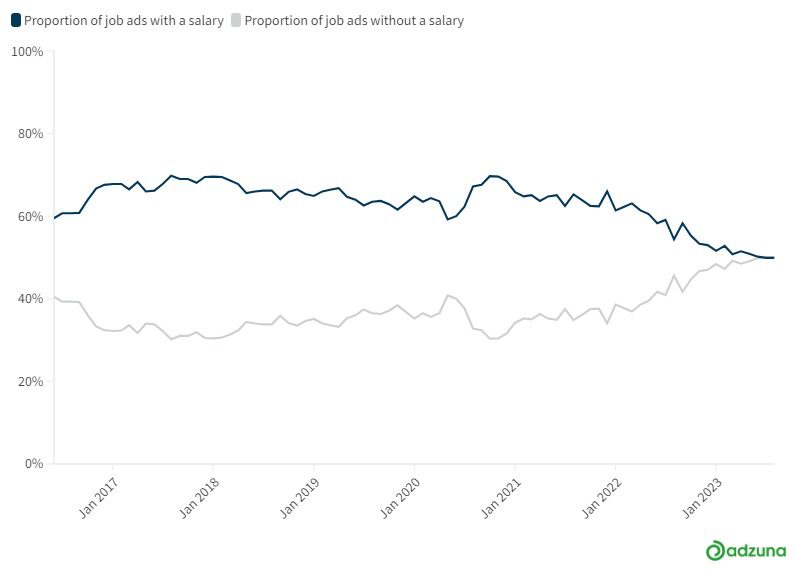 Time to fill job vacancies
The average time to fill roles has continued to slow to 36 days, which though still below January's high of 36.6 days, is the second-longest amount so far in 2023. On average, UK job postings remained open for 36.0 days in May 2023 (the latest data), up from 35.4 in April but still significantly lower year-on-year compared to 41.7 in May 2022.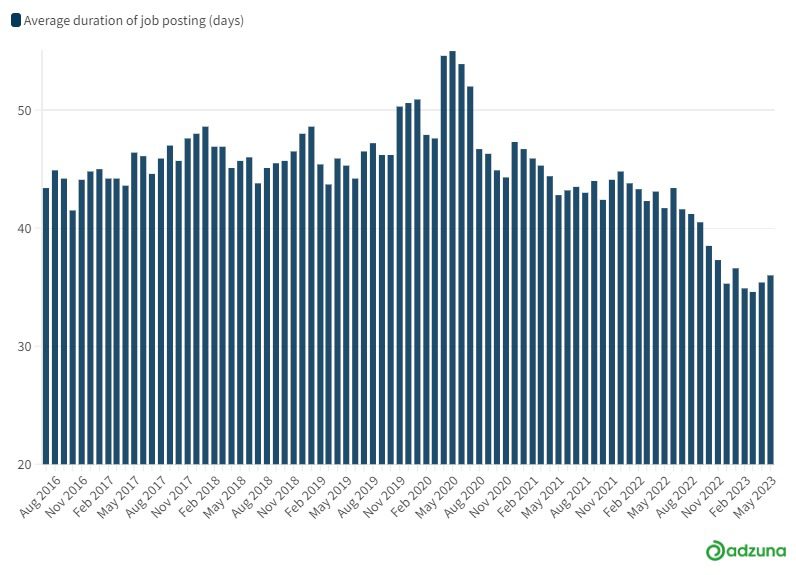 Competition for job vacancies
There were 1.49 jobseekers per vacancy in August 2023, up from 1.48 in July. Competition for jobs has risen over the last year, with August 2022 seeing 1.35 jobseekers per vacancy.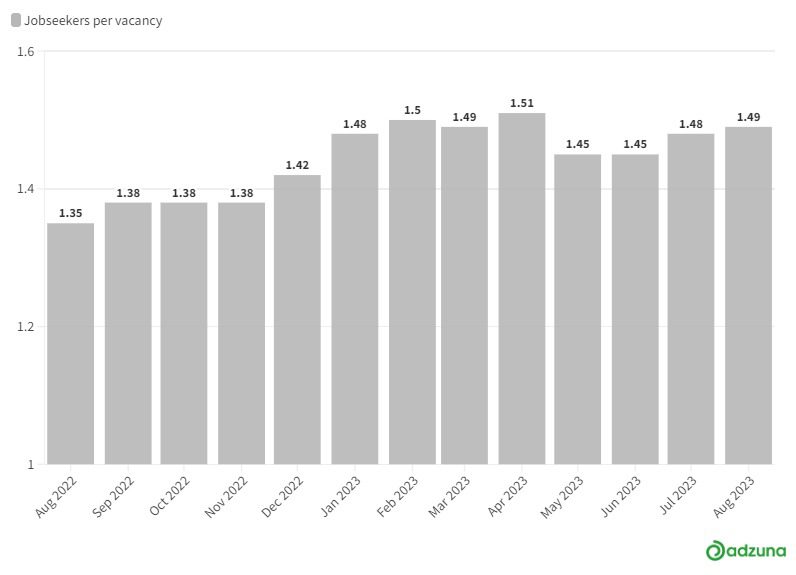 Hiring activity by sector
Two-thirds of sectors saw a decline in job vacancies in August, following July's lead. The Legal sector experienced a -4.9% fall in job roles, compared to July when it was one of the strongest. Graduate jobs also continue to decline, down -5.5% monthly and -21.1% annually, furthering pressure on new graduates entering the job market following the end of their studies. PR, Advertising & Marketing (-5.5%) and Teaching (-5.8%) also experienced notable falls.
Retail and Logistics & Warehouse sectors have seen the biggest monthly increase in advertised jobs, up +4.7% and +3.6% respectively, following strong growth in July, particularly at the big grocers including Asda, Lidl and Tesco.
The fall in overall salaries was seen across the UK, with half of sectors experiencing a drop in August compared to the previous month. Energy, Oil & Gas jobs saw advertised salaries increase the most, (+2.1%) whilst Retail experienced a drop of -1.5%. Given that vacancies have increased by nearly 5% in the Retail sector, the fall in average advertised salaries points to an increase in entry and junior positions.
HR & Recruitment and IT have experienced the biggest annual fall in salaries compared to August 2022, down -6.0% and -5.6%. IT jobs continue to offer the highest average advertised salaries to future employees, at £53,641, with Legal coming second at £52,803.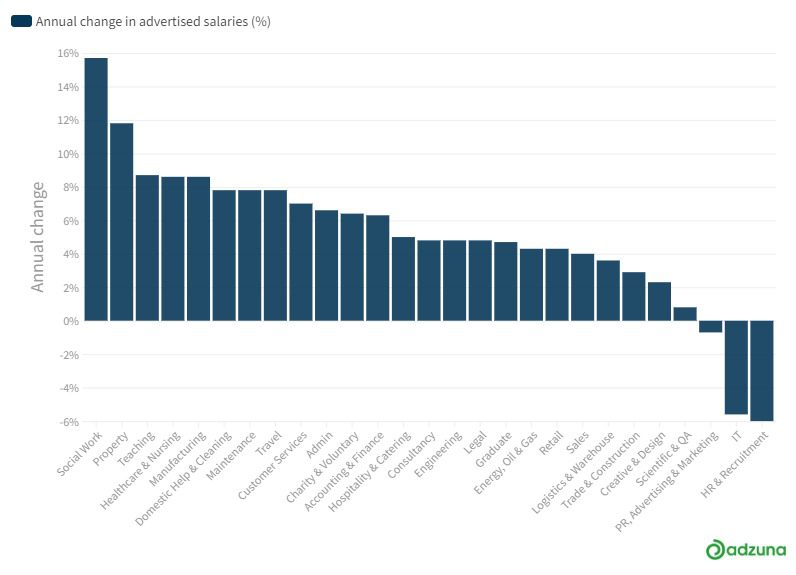 Looking at the latest data on the average duration of job ads for May 2023, time to fill is very much dependent on the sector. Admin (31.4 days) and Property (31.7 days) are the fastest sectors to fill vacancies, whilst Energy, Oil & Gas (42.1 days) and Logistics & Warehouse (49.3 days) are the slowest.
Trending jobs
The data also tracks the most popular occupations among UK jobseekers. For the third month running, warehouse work is the top trending job in August, with an interest quotient of 164.1. Lorry driving jobs came second (137.3), whilst social care work was the third most in-demand role among jobseekers (112.7).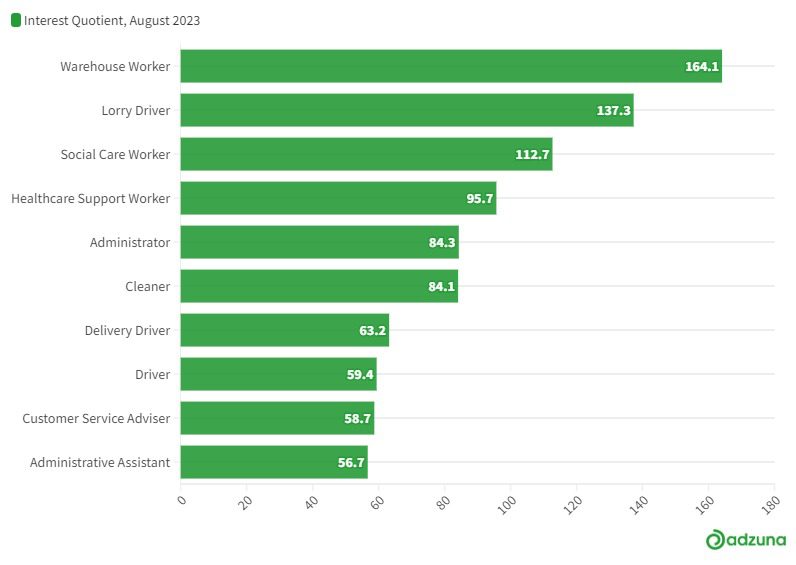 About Adzuna
Adzuna is a smarter, more transparent job search engine used by tens of millions of visitors per month. Adzuna love using the awesome power of technology to bring together every job in one place, help match people to better, more fulfilling jobs and keep Britain working.
Adzuna supplies real-time data to the Number 10 Dashboard, the Cabinet Office and Office for National Statistics labour market indices. In 2018, Adzuna won the contract to run Find a job, one of the British government's most used online services.
Adzuna.co.uk was founded in 2011 by Andrew Hunter and Doug Monro, formerly of eBay, Gumtree, Qype and Zoopla and is backed by leading Venture Capital firms LocalGlobe, Index Ventures and Smedvig Capital.
They've spent a decade developing smarter, more transparent job search so jobseekers worldwide (they're in 20 countries) can zero in on the right role faster.
About the Job Market Report
Adzuna has the most complete index of UK job vacancies covering all regions in the UK. The technology collects every job vacancy advertised online in the UK from over 1000 sources. This data is then normalised, de-duplicated, mix-adjusted and outliers are removed in real time to give users an accurate, complete, up to the minute view of the job market.
Claimant count data is based on the latest Labour Market Statistics released by the ONS. The city areas referred to in this study are the top 50 cities in the UK, ranked by comparing the job vacancies in Adzuna's comprehensive search index of over 1,000,000 live jobs to the number of claimants in each city from the latest ONS data. The full Jobseeker's Allowance claimant count statistics are available for download here: www.nomisweb.co.uk.
The interest quotient for key roles is calculated by comparing how many views job postings for different occupations on Adzuna receive over a given month and comparing this to the overall job posting views over the same period. It provides a proxy for talent supply in the jobs market.
Subscribe to the Adzuna UK Job Market Report: https://ukjobreport.onpressidium.com/job-market-report/
Are you recruiting?
At Recruit North it is our job is to help employers find, attract, engage and hire the talent which will help them to grow and make a success of their operation.
As one the region's most experienced recruitment agencies, Recruit North Ltd provides permanent recruitment services to businesses and organisations in Cumbria, the Lake District, Lancashire and beyond.
If you are an employer looking to hire, fill out our brief hiring form and we will be in touch to discuss your recruitment needs. Alternatively, call Paul Murphy on 01946 448765.